100415 IcelandVolcanicErruption Data
From Earth Science Information Partners (ESIP)
<<Back to EventSpace for Iceland Volcano
*** Do you have science data to share about the Volcano? Create an account on this wiki and add directly or Tweet to @ESIPAQWG or e-mail emr1 at wustl dot edu or or tag in delicious with the tags (Iceland volcano Infosource) ****
*** UPDATED: 4-20 11:00 CST ****
Agency Summaries
Blog/WIki Summaries
Volcanic Ash Advisory Models[edit | edit source]
The graphics show the amount of air pollution from ground level until 20 km height on a relative scale, where red is the most polluted. The difference between the colours is a factor 10. NERI has assumed that the volcano has emitted the plume to a height of 5-7 km. Please note that the model works in UTC-time. Central European summertime = UTC + 2 hours.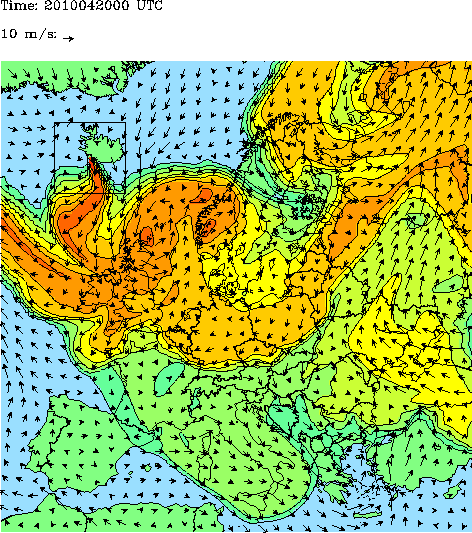 Rhenish Institute for Environment - Germany[edit | edit source]
ESA Model for Ash Deposition This animation shows the movement of the ash plume from the eruption of the Eyjafjallajoekull glacier in Iceland.
Norwegian Institue for Air Research - Model - The animations shows dispersion of the eruption from the volcano Eyjafjallajökull.
The animation from Oslo and Bergen also includes the episode from Thursday April 15, where citizens in Bergen and Oslo reported they could smell sulfphur from the eruption in Iceland.
The information in the models has been derived by a model using SO2 as particle tracer for the ash plume. Please note that the time is given in UTC and that the model only includes emissions after 1700 on April 14.
4-19-2009 AQUA Pass

From James Johnson, NASA:
SO2

Aerosol Index

GOME 2 Absorbing Aerosol Index - VAAC Support[edit | edit source]
From Andrey Savtchenko, NASA: KMZ of AIRS and CALIPSO - Full-resolution (3-km) AIRS Near-Real-TIme false-color imagery, and CALIPSO expedited browse Details
Animation of volcanic plume impacting Europe - The data shows the concentration of ash in the atmosphere. The ash mass is calculated by combining multiple spectral channels from the EUMETSAT Meteosat-9 satellite's SEVIRI sensor. The latest image from April 19, 2010 is derived from the NASA Aqua/MODIS satellite sensor. These analyses, developed by NOAA scientists, can distinguish between clouds and other atmospheric aerosols.
Radar Obs from Iceland Coastguard[edit | edit source]
From Stu Frye: EO-1 Hyperion image from yesterday [4/17] of the Iceland volcano shown as two side-by-side panels produced from two different spectral ranges,...the left one is SWIR and the right one is visible. In the SWIR, you can see the thermal vent and in the vis you can see the plume coating everything to the SouthEast making the ice brown/gray
International Space Station[edit | edit source]
"Good morning, Europe! Looks like another hazy (ashy?) day for you."
Air Quality Now EU Map - <feed url="http://www.airqualitynow.eu/rss.php" entries=5>
[{PERMALINK} {TITLE}] {DATE}
</feed>
@ESIPAQWG Today's photographic spam from me :) http://www.space.com/common/forums/viewtopic.php?f=16&t=23777&p=447168#p447168
Tag in Delicious with 'Volcano Iceland Infosource'
All Iceland Volcano links: http://delicious.com/tag/Volcano+Iceland+Infosource <feed url="http://feeds.delicious.com/v2/rss/tag/Volcano+Iceland+Infosource?count=15" entries=15>
[{PERMALINK} {TITLE}] {DATE}, by {AUTHOR}
</feed>